Nelo Vinuesa's vibrant abstractions stem from the artist's deep connection to both color and the natural landscape. Vinuesa believes color is culturally and anthropologically resonant; as a result, the artist mixes his own colors in order to create hues that represent a certain psychological state or emotion stemming from his own life experience. Vinuesa is also deeply inspired by the landscape, viewing it as revelatory of our own existence, describing it as both inspiration and expression with regard to his painting. His work carries on abstract expressionism's action painting legacy as he works quickly and intuitively in such a way that one can imagine the artist's movements. Though he focuses on painting, the artist has also worked in audiovisual and video mediums, and cites them as important influences in his work. His paintings are personal yet strive to resonate to all through the expression of essential, universal emotions. Vinuesa studied fine art at the Polytechnic University of Valencia in Spain, and has been included in solo and group exhibitions worldwide. He has also been awarded grants and residencies in both London and Madrid.
In this conversation with art historian Jennifer Earthman, the artist discusses what draws him to abstraction, his creative process, and artistic goals. His inspiration from nature alongside interest in technological advances results in unique paintings emblematic of both primal and contemporary imagery. Related to his interest in universally communicative work is his belief in the need of spiritual transcendence in our contemporary world: "After overcoming the conflicts that marked the 20th century, we are still plunged into a kind of chaos…a reconnection with the spiritual can certainly serve us in the present, and this is precisely what draws me to abstraction."
In a few words, how would you describe abstraction?
Abstraction is a process based on the search for the essential. It is the expression of an ineffable inner world, and a way of seeing, organizing and interpreting space. At the same time, it is a system of representation that connects with the universal. I believe that, in some way, it represents the possibility of spiritual renewal.
What draws you to abstraction? What do you consider to be its relevance in today's world?
If we accept the idea that art was born with abstraction and that this has endured throughout history, especially in those times in search for the essential and greater spirituality, we can think, given the circumstances, that its relevance in today's world is even more significant. After overcoming the conflicts that marked the 20th century, we are still plunged into a kind of chaos in which economic, environmental, geopolitical, social and technological problems require urgent solutions. Therefore, a reconnection with the spiritual can certainly serve us in the present, and this is precisely what draws me to abstraction.
Based on the evolution of abstraction, where would you say your work fits in the arc?
My work is informed by previous art historical precedents such as Abstract Expressionism, action painting, color field and Informalism. But in addition to my interest in painting, I am also inspired by audiovisual culture such as animated films, videogames or computer graphics. In some way, I intend my work to connect with both the ancestral and the contemporaneus visual imaginary.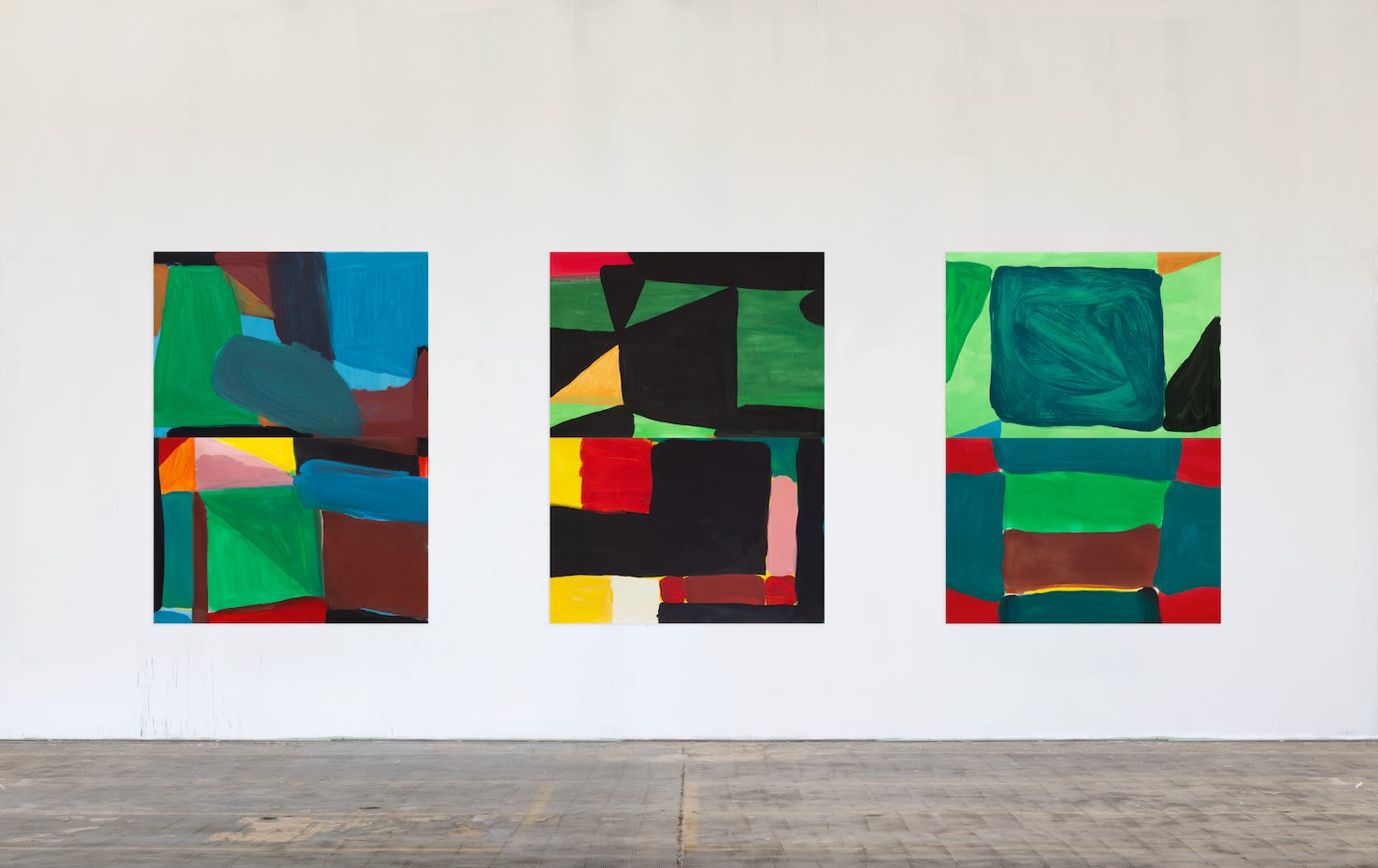 Nelo Vinuesa. Camp Kit. Ullal, Camp Kit. Gola and Camp Kit. Llac, 2020. Oil on paper, 63 x 47 1/4 in (160 x 120 cm) each artwork. Image courtesy of the artist and Zeit Contemporary Art, New York
As landscape and nature are very important influences and inspirations for you, would you describe some of your works as abstract landscapes? Do you sometimes have a particular landscape or spot in nature in mind when you start a painting?
I am interested in the approach of the human being to nature and therefore in the way we perceive and understand the landscape. For me, the landscape transcends its physical or geological specificity to speak to us about the framework of our existence. In this sense, in my painting the landscape is both a source of inspiration and an expression. As Spanish novelist Azorín said "The landscape is us; the landscape is our spirit, its melancholies, its placidity, its desires, its Tartarus."
As for the process when I start a painting, sometimes I have a landscape or spot in nature in mind. The places I have visited, my personal experiences and memories in nature and especially my land and those places especially familiar to me, (like the Albufera of Valencia, the mountains of Castellón or Alicante and the Mediterranean Sea), appear as recurrent references in my work. But these references and images are never too concrete and are only the starting point. What interests me is to approach the canvas as a blank sheet, and to progressively turn it into a kind of map where forms are revealed as I go along. It is then that I recognize and interpret what remained hidden. Thus, I can orient myself, take a direction and choose one path or another, like an explorer making his way through the jungle.
You have mentioned an interest in the essential and primal, which were correspondingly important to many artists working in abstraction in the postwar years; are you similarly interested in creating universally resonant and timeless works of art?
Indeed, I share the idea of exploring intersubjective expression processes that allows for a kind of connection between the individual and the universal.
Do you think in color or form?
On the one hand, I feel a natural connection with the use of color, it is something I cannot explain, but I have always felt this way and with time I am more and more interested in its big expressive potential and its capacity to create meaning. On the other hand, I consider that form and composition are essential, since a painting is not only a simple physical and psychological release, but must also be well constructed, with a good sense of balance and rhythm, in order to convey the idea more clearly.
So, I think of both as a whole. I use color and form intuitively, trying to balance them during a process based on improvisation. For me this is important because it allows me to release emotions, feelings and ideas fluently, but in the end, nothing is left completely to chance.